Participating in the Competition
Participation is by invitation or qualification through a local competition only. Twenty-four Universities participate in the Competition. Universities appoint one team of four students will represent their university in the competition.
Competition Dates
The competition will take place over three rounds. The first round will take place on Monday 31 May 2021, round two will take place on Wednesday 2 June 2021 and the final round will be held on Thursday 3 June 2021 Hong Kong Time.
Competition Structure
Teams are divided in divisions and slots.
Division A, B, C, D represents the pool of universities that you compete against.
Slot 1, 2, 3, 4 represent preparation and presentation time.
The Asia Pacific competition will have 24 teams divided in six divisions with four slots.
Random Draw Procedures
The divisions and presentation slots will be determined by random draw. This draw will be held in the presence of all participants. Except for the final round, each round of the competition will have its own draw.
Format of Presentations
A case study will be sent to students and students will have six hours to prepare a slide deck and submit this deck to the ACRC as per the Schedule provided elsewhere on this page.
The presentation slides should be handwritten on white A4 paper, scanned or photographed and inserted into a ppt or pdf file. ACRC will provide a title slide template that has to be be inserted at the start of the deck.
Presentation sessions
The presentations will last 20 minutes followed by a 15 minutes Q&A session. The students will be presenting the earlier submitted slide deck live using ZOOM.
Judging
The judging panel will consist of senior executives from HSBC and other companies. Typically there are three judges on each panel.
Judges feedback sessions
Each team will have a five minutes feedback session with the judges roughly 10 minutes after completing their presentation.
Judges scoring
Judges will score the teams using the competition scoring sheet, a template of which will be shared with each participating university. Universities will receive a copy of the completed scoring sheets for their team, some days after the competition.
Attending the presentations
Coaches can watch all rounds of presentations of their team and all other teams in their division live. Students can only attend presentations in their division after their team has already presented on that day.
Coaches and students from teams who have not made it to the final round, or students that have already presented in the final round, can watch the final round presentations live.
All presentations will be recorded and shared on the HKU ACRC website and Youtube channel.
Access to ZOOM
ACRC will provide the ZOOM video conferencing and presentation software hosting license to teams who do not have access to it through their University. Please contact us at competition@acrc.hku.hk
Competition Schedule – Hong Kong Time
21 April, 4pm (HKT) – Deadline for the Asia Pacific Online Competition Registration
Online registration – teams will register online using an online form.
29 May, 11am (HKT) – Competition Introduction Session / Rules Brief / Q&A / Order Draw
The Q&A order will be determined by a draw. Anyone can join the ZOOM meeting to witness the live lots drawing.
The networking and other socializing sessions are to be confirmed.
29 May – 3 June, – Presentation Preparation and Submission
As part of the online registration process, teams have to choose six hours preparation time slots. Case preparation will have to take place between
9pm (HKT) on Saturday 29 May to 9pm (HKT) Sunday 30 May for Round 1
4pm (HKT) on Monday 31 May to 9pm (HKT) Tuesday 1 June for Round 2
4pm (HKT) on Wednesday 2 June to 7am (HKT) Thursday 3 June for Final Round
The case will be sent to the teams to designated email accounts 15 minutes before the start of the team's selected time slot. The team will have 6 hours to analyze the case, prepare and submit the slides by uploading them via www.wetransfer.com to competition@acrc.hku.hk The cut off time (a deadline for submission) is the time of the wetransfer notification when it arrives at the ACRC email account.
* It is essential that the presentations are uploaded before the deadline.
The team shall contact ACRC immediately if they do not receive the case on time as specified upon the registration.
31 May- Monday
Round 1
Results announcements of Round 1
2 June – Wednesday
Round 2
Results announcement of Round 2
3 June - Thursday
Final Round
Results announcement of the Final Round
---
Competition rounds for the Asia Pacific Competition
Random draw will determine the grouping for Round 1.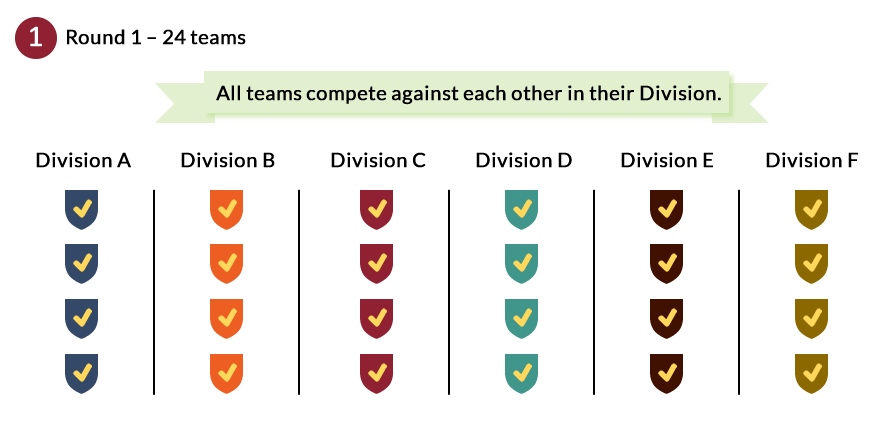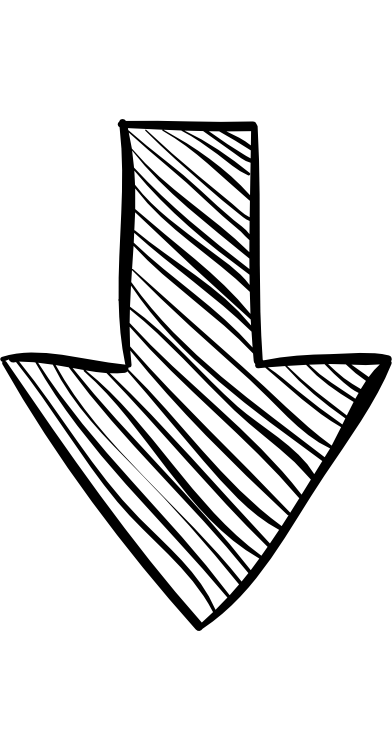 Random draw will determine their grouping for Round 2.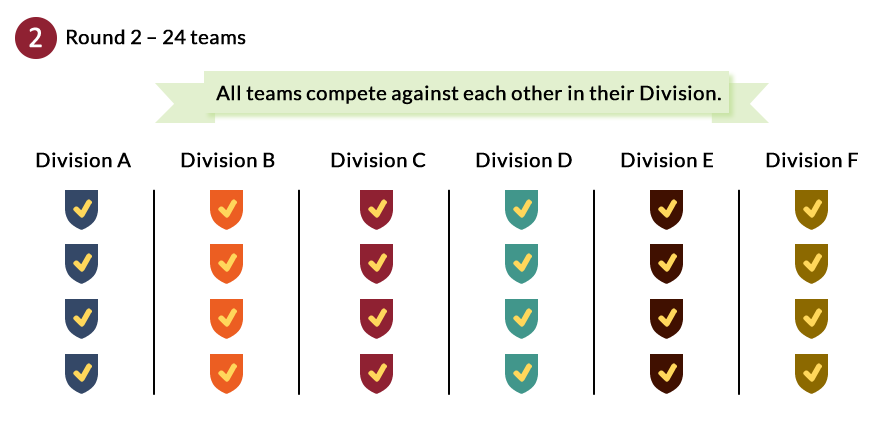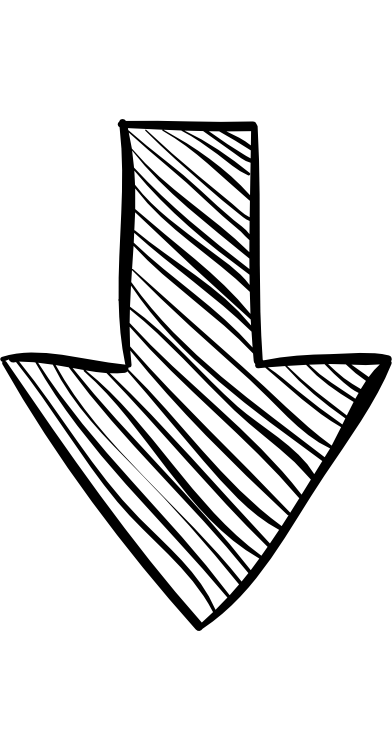 Random draw will determine their grouping for Round 3.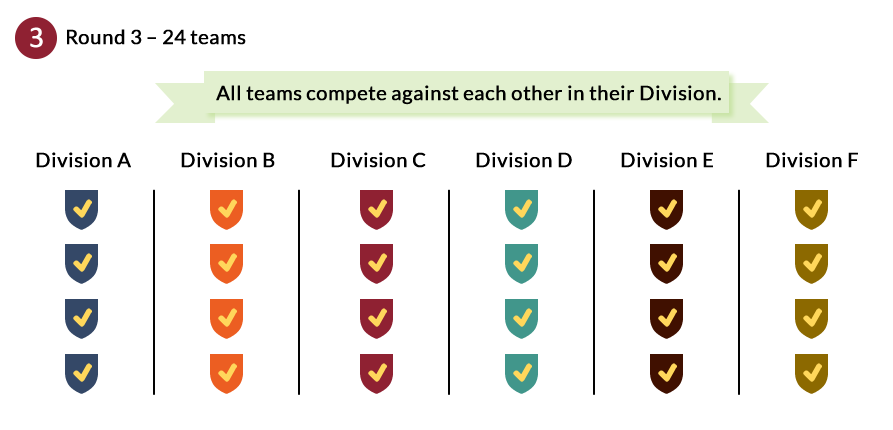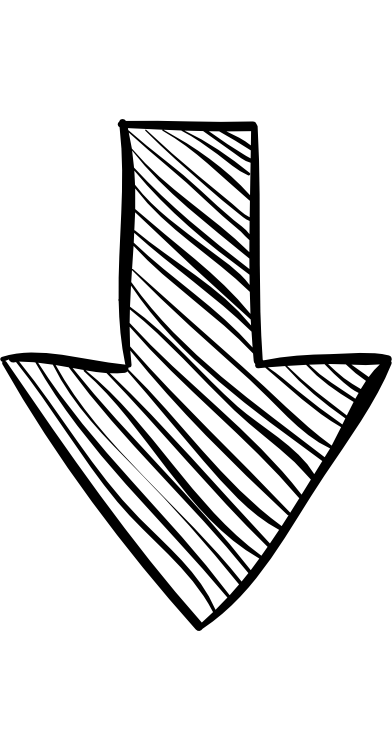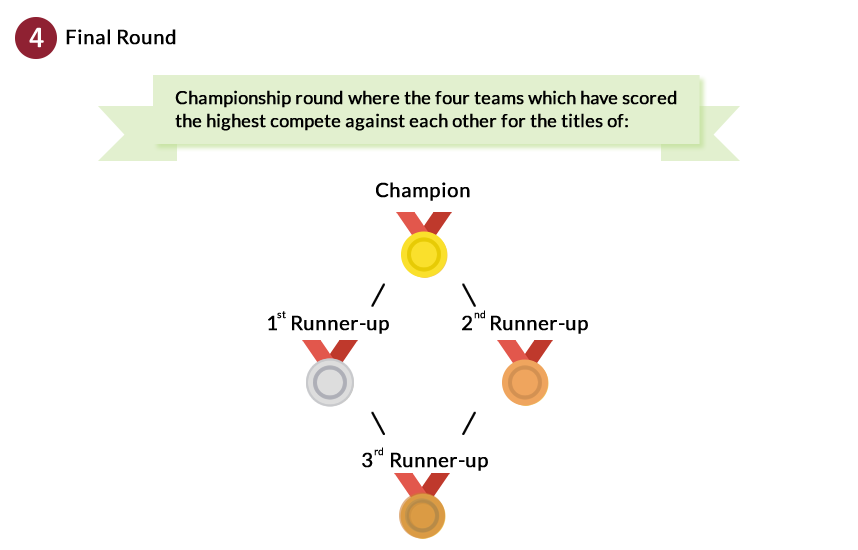 ---
As an example, please take a look at the results of the 2019 Asia Pacific competition.
HSBC/HKU Asia Pacific Business Case Competition 2019 Result